We have the pleasure of announcing
MOSTAFA SAIFI RAHMOUNI
Winner of the Biennale "Watch this space" 2017
as artist-in-residence 2018

Exhibition:
May 26–June 14 2018, Saturday 2 to 6 pm and by appointment
Opening: May 25, 7 pm
Artist talk: May 11, 7:30 pm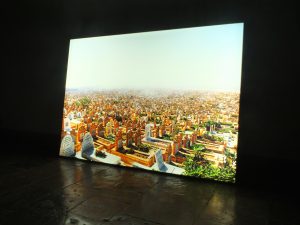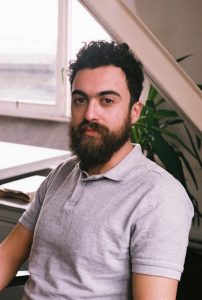 Mostafa Saifi Rahmouni: The City of The Livings 2017, Light box, (216x150x8 cm) Photo credits: Courtesy of the artist;
right: Mostafa Saifi Rahmouni by Anaïs Chabeur
The jury of the Biennale organized by '50° nord Réseau transfrontalier d'art contemporain', France/Belgium unanimously decided to award the 'Watch This Space' Award to the young Brussels-based artist with the following statement: 'The quality of your artistic approach and your political commitment have convinced us to support you beyond the Watch This Space program, by promoting your inscription in the world of art on a European scale.'
MOSTAFA SAIFI RAHMOUNI – born in 1991 in Rabat (Morocco), MA in sculpture at the ENSAV La Cambre, Brussels; postgraduate HISK, Ghent, Belgium – has distinguished himself as one of the most interesting names of his generation. His multifaceted artistic practice combines reflections on human condition, suffering and the passage to death in an exquisite contemporary language – both personal and sensitive – denouncing misuse of power and scrutinizing the role of symbolism and social bond through ages and cultures.
Selected shows in 2017: Watch This Space Biennial – 50° Nord (Solo Show) Espace 36, Saint-Omer, France; 9ème Prix de la Jeune Sculpture de la Fédération Wallonie-Bruxelles; Sharjah Biennial, Tamawuj – Ashkal Alwan, Beirut – Lebanon; La ville des vivants (Solo Show), Centrale – Lab (Centrale Electrique), Brussels
Support: ROSALUX in partnership with '50° nord Réseau transfrontalier d'art contemporain', France/Belgium
FURTHER
June 18–24 2018
THE VIVID UNKNOWN, Cooperation project within the Refugee Week Berlin
The exhibition will run in parallel with and will share the aims of Refugee Week UK, organised by Counterpoints Arts since 1998. The non-profit project is curated by Monika Dorniak and will feature the artists Elisa Dierson, Monika Dorniak, Domenique Himmelsbach de Vries, Katja Marie, Felix Stumpf, Çaglar Tahiroglu, Matteo Valerio, Raul Walch.
June 29–July 14 2018
IN FAVOUR OF A TIME TO COME
José Maia and Nuno Ramalho, Porto (PT)