March 29 – April 12 2014
Agente Costura + Project space. Display 4
We are a sewing agent + Kuiperdomingos Projects
Lisa Simpson, Hans Kuiper, Tiny Domingos
CLOSING EVENT: Saturday, April 12 at 4 pm with musical sewing performance
BRING YOUR CLOTHES!
Opening with Performance by Lisa Simpson & Co
and Neoschlager by Hans Kuiper on March 28 at 8 pm
Exhibition:
March 29 – April 12 2014
Monday – Sunday, 3 – 7 pm
we turn your wardrobe upside down and inside out
and right side up again
we turn your skirt into a dress and your dress into a skirt
we make new clothes from old clothes
we tailor any garment to your body type
we get you the clothes you've always wanted but never imagined
we make it all up on the spot!
Come along just to have a look, or join in the transformation! It's easy:
1. Go through your wardrobe and pick out the garments that have been sitting there for a long time.
2. Bring them in and explain what it is that stops you from wearing them.
3. Watch as your garment is reconstructed and adapted to your desires!
Lisa Simpson will inhabit rosalux between March 28th and april 12th in a durational performance based installation, repurposing vintage and second hand garments. The audience is encouraged to participate during the exhibition with their own clothes to upcycle, interacting with the artist and bringing new life to old garments. This interaction is based on the personal needs of each participant, who may also bring along music as the score for the alterations.
On opening night a musical sewing performance is staged, the sewing machine is turned into a percussion instrument and clothes are altered in a musical and textile composition, in collaboration with Guido Henneböhl, Hopek Quirin and Kris Limbach. The audience is also encouraged to participate by putting on the garments that will be altered. The performance is a celebration of improvised music and improvisational clothing, emphasizing the process of transformation.
" (…). It reminded me of my view of aesthetics – aesthetics not being a sociology of art but as being a form of experience. That is, an experience of disconnection. This has been conceptionalized by Kant and Schiller in terms of disconnection: there is something that escapes the normal conditions of sensory experience. That is what was at stake in emancipation: getting out of the ordinary ways of sensory experience. This thought has been important for my idea of politics, not being about the relations of power but being about the framing of the sensory world itself."
(Jacques Rancière, Interview by Sudeep Dasgupta in "Art is going elsewhere. And politics has to catch it. An interview with Jacques Rancière" in KRISIS, the Journal for contemporary philosophy (2008), pp. 71-76)
February 22 – March 22 2014
"Reflections on Art and Literature"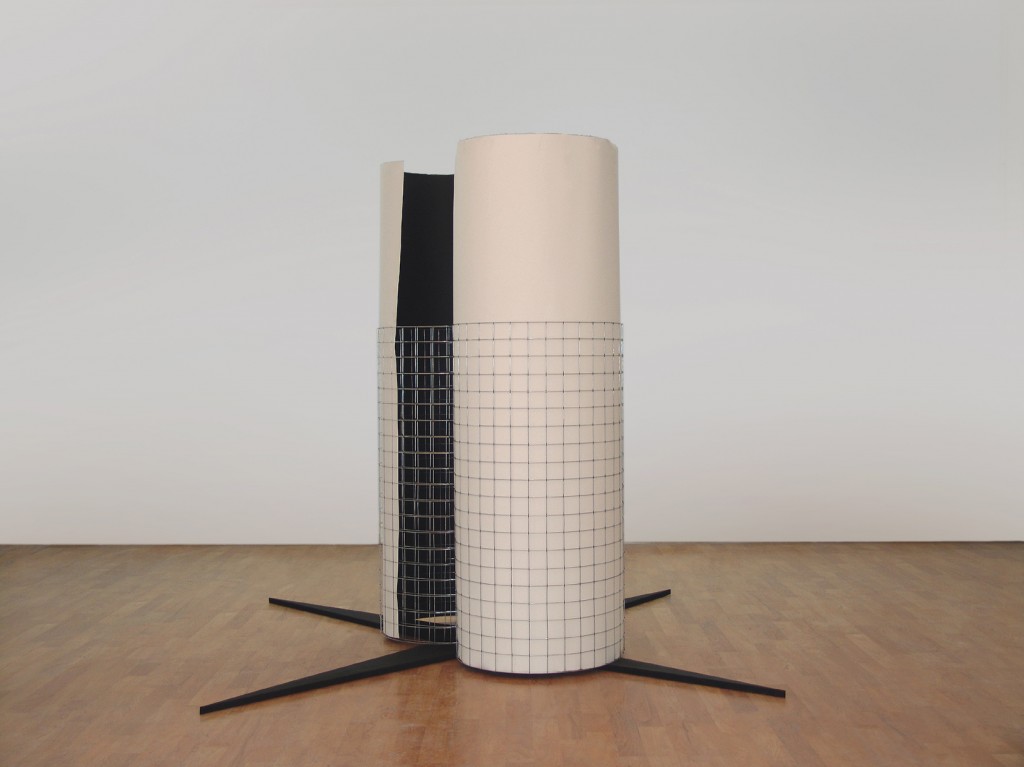 Photo: Kostas Bassanos, "True places never are", 2013; wood, steel, paper, ink (170 x 100 x 100 cm)
Curators: Artemis Potamianou, Thalia Vrachopoulos
Artists: Rebecca Agnes, Giorgos Papadatos, Isabel Baraona, Christina Mitrentse, Artemis Potamianou, Richard Humann, Nikos Papadimitriou, Meg Hitchcock, Kostas Bassanos, Renee Magnanti, Maria Ikonomopoulou, Tiny Domingos, Barbara Knight, Cris Giannakos, Imni Lee, Robert C. Morgan
Opening: 22nd February 2014, 7 pm
Duration: 22.02.–22.03.2014
Exhibition hours: Thursday to Saturday, 3–6 pm and by appointment
A catalogue in English, Greek and German is available. (PDF, 13MB)
Lo and Behold presents the exhibition entitled Reflections on Art and Literature, at rosalux – the Berlin-based art office. Artemis Potamianou (Athens based) and Thalia Vrachopoulos (New York based) are the curators of the exhibition which will open on Saturday 22nd of February 2014 at 7 pm.
The exhibition will remain open until 22nd March 2014.
The relationship between visual art and literature — close, reciprocal and multifaceted in terms of aims and objectives — is characterised by a dynamic interaction which had been going on for centuries and constitutes a popular area of art history, with different approaches depending on the researcher's starting point.
Yet even without aspiring to follow such an approach, one can hardly fail to observe the common path, the parallel interpretation of historical reality and the interaction among so different fields of artistic creation, to the point where they go beyond being mere stimuli and sources of inspiration for each other as their boundaries are abolished in the oeuvre of certain artists.
The different roles but also the influences exchanged between literature and visual art make this a typical example of the evolution of a productive symbiotic relation. Although varying in their nature and expressive media, their creative process heeds comparable principles and fulfils similar needs, providing new paths and opportunities for discourse over and beyond the individual traits of images and language. (text: press release)


EYES ON, EYES OFF
Seet van Hout (NL), Chika Takabayashi (JP), Anina Brisolla (D)
September 28 – October 26
on Saturdays, 3 – 6 pm and by appointment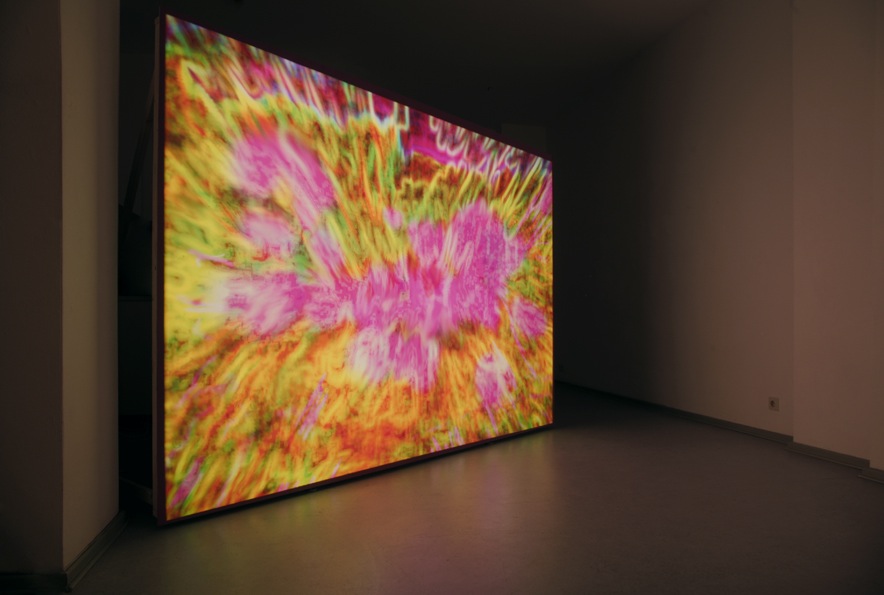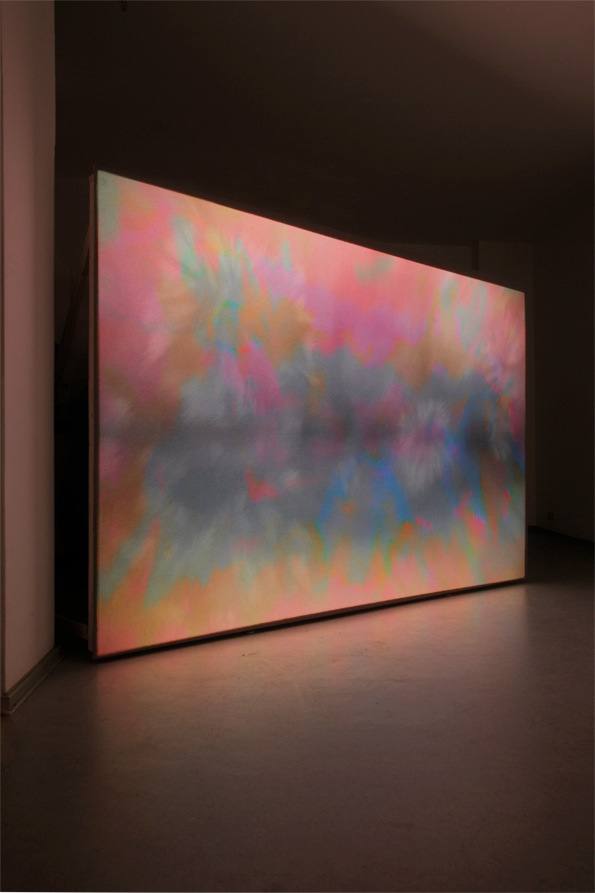 "Untitled (EYES ON EYES OFF)", Anina Brisolla, Photography: Övgü Özen
Installation view from the exhibition "EYES ON / EYES OFF" at rosalux, Berlin, September/ Oktober 2013


Opening: September 27, 7 – 9pm
Artist Talk: October 25, 7pm
"Dans la perception, un savoir se crée lentement."(Jean-Paul Sartre)
to close your eyes and see many things: stains, traits, particles, motion… the wish to share images that only you can see and feel.
to open your eyes.
to close your eyes. not for the sake of it, but simply to close your eyes, breathing deeply. the mind is free and associates images and thoughts. a complex gallery of faces unfolds.
open your eyes.
leave them open. open your eyes to see not only with your eyes but with your imagination. let yourself be surprised by possible interactions between the view and the image you have dreamed.
Chika Takabayashiy was born in Japan in 1980. Lives and works in Berlin. 1999—2003 Aichi Prefecture University of fine Art and Music, Japan; 2003—2007 Academy of visual arts and design AKI ArtEZ, Enschede (NL). Active in the field of sculpture, installation.
Selected shows: "Eyes ON / Eyes OFF", rosalux, Berlin; "Requiem", Japanese Embassy, Berlin, 2013; "Lovely Wildness", Roosendaal (NL), 2012; · "Gyeonggi International CeraMIX Biennale", Korea, 2011; EKWC artist in residence program, Den Bosch (NL), 2010; "Dürer war auch hier", AIAS, Pan Kunstforum, Emmerich (D); Kunsteyssen artist in residence program, Alkmeer (NL), 2008; · "Art olive jong talent 07″, Amsterdam, 2007

Seet van Hout was born in the Netherlands in 1957. Lives and works in Nijmegen (NL) and Berlin. 1975—1984 Academy of Fine Arts s'Hertogenbosch and Arnhem (NL)
Solo shows (selected): Eyes ON / Eyes OFF, rosalux, Berlin, 2013; "Thinking the Garden", Galerie Nouvelles Images, The Hague (NL), 2013-2012; "Melancholy Girls", Stadtmuseum Siegburg (D); Klosterschloss Bentlage, Rheine (D); · Red Greenhouse AkkuH, Hengelo (NL), 2011; Stadtmuseum Beckum (D); "Bittersweet" , Galerie Gist, Amsterdam, 2010; "Melancholy Girls", Middendorf Gallery, Baltimore (USA), 2009;· "Jelangerjelieber", Pan­Forum Emmerich – with Uwe Poth – (D), 2006
Group shows (selected): Eyes ON / Eyes OFF, rosalux, Berlin; "Tijdloos Eigentijds", Museum Flehite, Amersfoort (NL), 2013; · "50 years Galerie Nouvelles Images", The Hague (NL), 2010; · "Small Works", Ram Foundation, Rotterdam (NL), 2009; "Imagining the Book", Bibliotheca Alexandria (Egypt), 2007; "Rijke Uren", Museum het Valkhof, Nijmegen (NL), 2005

Anina Brisolla was born in Hamburg in 1976. Lives and works in Berlin. 2000—2001 School of Visual Arts, New York; 1997—2001 Academy of visual arts and design AKI ArtEZ, Enschede (NL)
Selected shows: "Eyes ON / Eyes OFF", rosalux, Berlin; "pieces", KWADRAT, Berlin;   "The pleasure house is about to burn down", Galerie Jaap Sleper, Utrecht (NL), 2013;  "reKOLLEKT", Kunstraum Kreuzberg/ Bethanien, Berlin,  2012;   "Jeder Tag ist Freitag" Kunsthalle Düsseldorf, Düsseldorf, 2011; "Highlights from the Cologne Kunstfilmbiennale in Berlin", KW – Institute for Contemporary Art, Berlin; "Noire et pourtant lumineuse", Matthew Bown Galerie, Berlin, 2010,   "Internationaler Wettbewerb", KunstFilmBiennale, Filmforum Museum Ludwig, Cologne, 2009;  "Documental. Contemporary Video Art from Europe", Guggenheim Gallery, Los Angeles;  "Toy-Void // Doing Identity", Münchener Kammerspiele, Munich, 2008
MALL
2010, digitale Datei, 6'00″, Loop, Farbe, Ton
Videoinstallation mit Projektionsobjekt
Anina Brisolla
Installationsansichten
"noire et pourtant lumineuse", Matthew Bown Galerie, Berlin, April/ Mai 2010
Photos: Holger Niehaus
Faceandbookme / Beyoncé 4,95
Kerstin Weichsel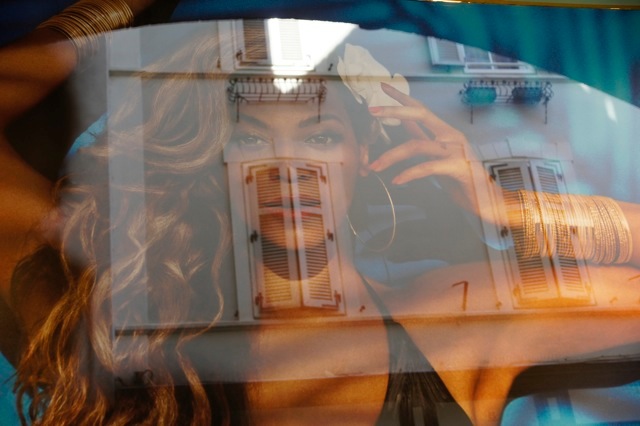 Video premiere, photo exhibition & info lounge
August 31 – September 21
Saturday 3 – 6  pm and by appointment
During the Berlin Art Week: September 19 / 20 / 21,   3 – 6 pm
New blogs:
also as well although nonetheless still tomorrow today not again always farther higher just next door the most beautiful and bang do it once more hey presto up up and away (FACEANDBOOKME)
´
Tiny Domingos about the project:
June 29 – August 24, 2013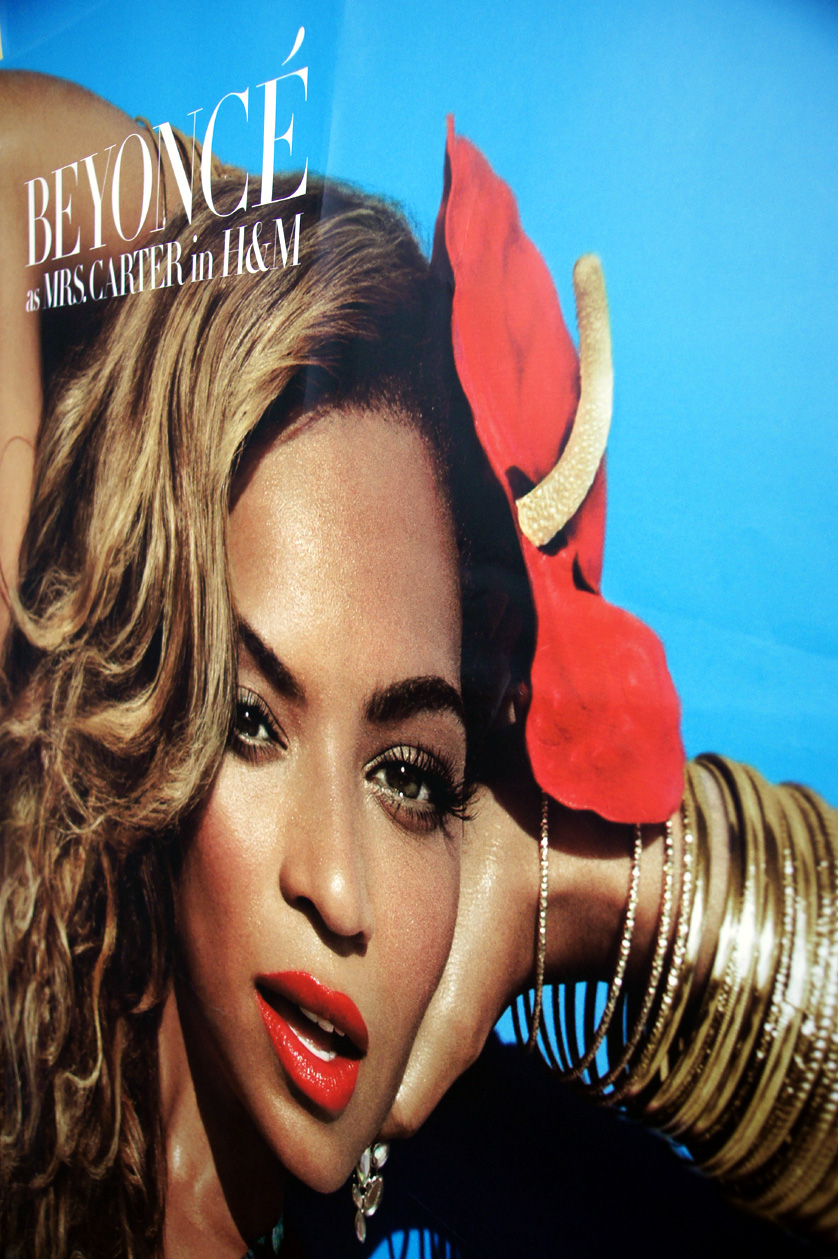 Kerstin Weichsel
art campaign FACEANDBOOKME
Beyoncé 4,95
Saturday, 3 – 6 pm and by appointment
Kerstin Weichsel's current exhibition, Beyoncé 4,95, shows a selection of photos which are part of her art campaign FACEANDBOOKME. What she presents are images of overwhelming marketing campaigns. Buy me, take me, for the pleasure of the fiercely contested customer, here and now, at this very moment. Resistance is futile, isn't it?
'You know, what they are dumping on the market here is nothing but pieces of cloth. Let's face it! I am simply taking apart the high-gloss messages into their constituents, every centimeter of them is worth its length in gold—quite innocent—click—let's see what's up—click—let's see what's up two hundred more times. The big pleasure is a small one, it hurts the click—so what?' (Kerstin Weichsel)
In 2001 Kerstin Weichsel was the artistic director for the multimedia exhibition 'HOMO@HABITAT – The Evolution of British Lifestyle Design', where she developed ten installations central to the theme featuring fashion, interior design, product design and new media. Homo@Habitat has appeared at the Hadrian's Temple, Rome 2001, and at the National Gallery of Modern Art, Prague 2002. The exhibition displayed a man-made world that goes far beyond man's needs and that he or she is completely unable to cope with. Kerstin Weichsel lives and works in Berlin. (English translation: Werner Richter)
May 11 – 31, 2013
(CON)TEMPORARY SPACE-TIME AT ROSALUX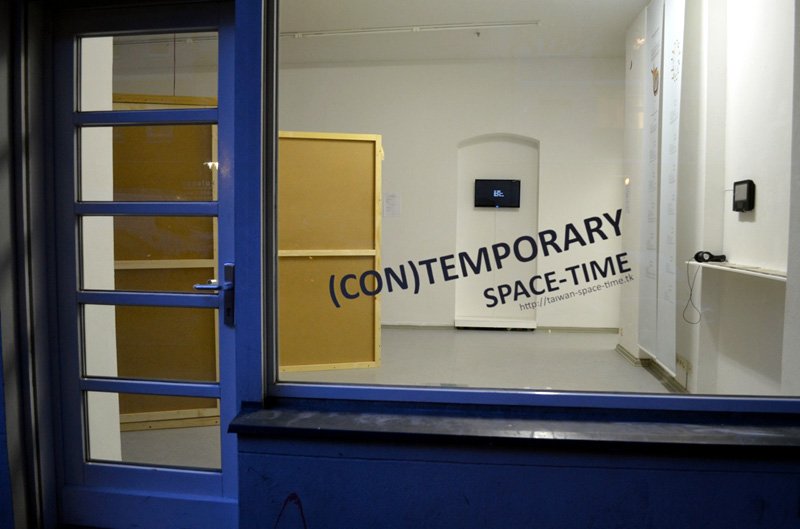 Exhibition curated by Lan Hungh, Yun-Ting Hung & I-chen Tsou with works by
Wu Ma-Li + Action Team
Tang Huang-Chen
Kao Jun-hong
Ye Yu-Jun
The exhibition intends to present the diverse relationships between body and religious, Zen, civilisation, nature, social interaction and confronting repression and additionally shows how Taiwanese performance/action artists grow a unique performance/act art contextual brook with historical torrent.
May 31, 5-10 pm
(CON)TEMPORARY SPACE-TIME
Live Performances:
Effie Wu, Fu Ya-Wen, Lin Chi-Wei, Tang Huang-Chen, Watan Wuma
April 20 – May 04, 2013
Branchings / Verzweigungen
Branchings: Invitation to the show
After the exhibition "Branchings/Verzweigungen" at rosalux in Berlin, the three artists talk about their work (5'20):
Artist talk – Uwe Poth, Pedro Calapez and Christoph Both-Asmus in conversation with Tiny Domingos (46'22):
The exhibition "Branchings / Verzweigungen" brings together three artists who are all addressing the theme of the tree, in particular its branches and the spaces they enclose. Each artist approaches the theme in a very personal way. Uwe Poth is interested in the relationship between the tree and urban space. Pedro Calapez focuses on a reclining tree whose branches are touched by a breeze, suggesting a new cycle of life. Christoph Both-Asmus climbs to the highest and slenderest branches of a tree, venturing into the border-zone between Heaven and Earth. To invoke and observe nature is also to investigate our place and our role in it, to reconcile ourselves with our environment, with others and – why not? – with ourselves.
Die Ausstellung "Branchings / Verzweigungen" zeigt Arbeiten dreier Künstler, die sich – jeder von ihnen auf sehr persönliche Art und Weise – mit dem Thema des Baums, seinen Verzweigungen und dem Raum, den diese begrenzen, beschäftigen. Uwe Poth interessiert der Baum im Verhältnis zum urbanen Raum. Pedro Calapez widmet sich in seiner Arbeit einem umgestürzten Baum, durch dessen Zweige ein Windhauch, der Neuanfang verspricht, weht. Christoph Both-Asmus erklimmt die höchsten und dünnsten Äste der Bäume – eine Art Grenzerfahrung zwischen Himmel und Erde.
Sich der Natur zu erinnern und sie zu betrachten, heißt auch, sich unseren Platz und unsere Rolle zu vergegenwärtigen, uns mit unserer Umgebung zu versöhnen, mit den Anderen und – warum nicht… mit uns selbst. (rosalux)
Saturday April 27, 3 – 5 pm
Film screening "Branchings"
selected by Christoph Both-Asmus
-"African Pigmy Thrills" (9:53 min), Armand Denis (1930)
-"Treewalker" (4:33 min), Christoph Both-Asmus (2010)
among others… (all films in English)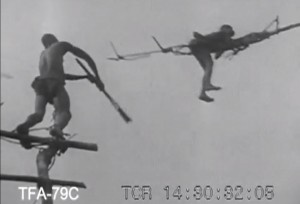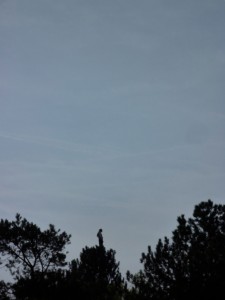 March 13 – 23, 2013
PROJECTEDSPACE – AREASHAPE
2012-2006
November 30 – December 2, 2012

EXIT STATION

Art from Slovenia

info
February 17 – 19, 2012

rosalux at Supermarket 2012

Stockholm

January 27, 2012

Project VO

(Guest: Stéphane Martineau)

info
November 26 – December 18, 2011

Salon Kuiperdomingos

info
October 29 – November 20, 2011

NAUGHTY CHILDREN OF ALFRED JARRY

info
September 30 – October 20, 2011

Project space. Display 2

info
August 26 – September 20, 2011

Project space. Display 1

info
JULY 2011

A Dress About Wedding & About Wedding Dresses

Janine Thielen

(Kuiperdomingos Projects)

MAY 28 & 29, 2011

Treewalker

(Kuiperdomingos Projects)

info
February 18 – 20, 2011

rosalux at Supermarket 2011

Stockholm

September 24 – October 16, 2010

IF THEY FALL

info
August 27 – 29, 2010

DROPPING TIME ONTO THE MATTER

Review by Anne Fäser (German)
June 10 – 26, 2010

FADOMASO

info (Portuguese)
May 20, 2010

BACK & FORWARD – a film by Ye77a

info
March 26, 2010

BIRDMEN (PART 3)

info
February 27 – March 13, 2010

VIDEOARBEITEN | 2005-2010

info | cv
November 27 – December 12, 2009

HERE AND ABROAD

info
October 24 – November 07, 2009

THE SHADOW OF MY BEING

cv

Review by Maria de Fátima Lambert (English | Portuguese

June 13 – 28, 2009

STORIES OF CELEBRATION AND DISSENT

info
April 03 – 30, 2009

TAGESSCHU

info
November 21 – 25, 2008

FROM AMERICA

info
July 8, 2008

A TINY WEE BACK & FORWARD

info
December 18 – 21, 2007

SANTA CLAUS VS EASTER BUNNY

info
December 01 – 15, 2007

FAMILY PROJECT

info
November 02 – 24, 2007

A LAND WITHOUT PEOPLE

FOR A PEOPLE WITHOUT LAND

info
October 19 – 27, 2007

NE TRAVAILLER JAMAIS

Bí­blia Magazine

info
September 03 – October 06, 2007

LATEST ACQUISITION - RAMIRO GUERREIRO

info
July 06 &07-21, 2007

BUNNYS SPORTS

info
June 16 – 30, 2007
cv
April 25 – May 12, 2007

LUSOLOUNGE

info
April 19 & 20, 2007
info
March 23 – April 4, 2007

AGAIN(ST) PAINTING

info
March 15 – 17, 2007

NERVE NIGHT

Vitor Lago Silva

info
September 12 & 13, 2006

RED SKY

Paulo Castro

info